La Cosa al cubo keep watching the skies!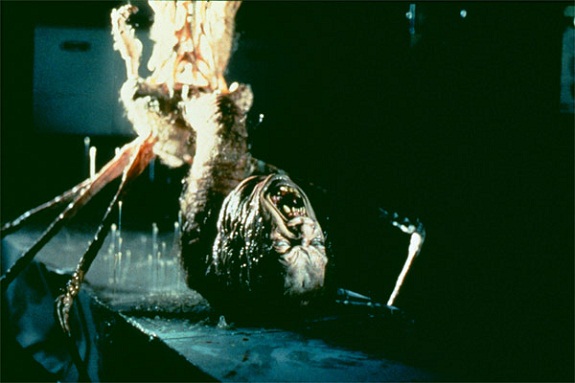 CINEMA DA UN ALTRO MONDO
Le coincidenze non esistono, non posseggono valore alcuno. Tutto il contrario dei cicli cinematografici, loro si degni di nota e attenzione. La Cosa atto terzo. Non è un caso. Non in questa stagione cinematografica, non nel 2012. Il "serial" cinematografico originato dal racconto di John Campbell non è un semplice film, né un prototipo qualsiasi, bensì un vero e proprio anello di congiunzione tra epoche lontane, comunque avvicinate dalla contemporanea produzione fantascientifica. Già, perché Nyby e Hawks rilasciarono La Cosa da un altro mondo nel 1952, anno in cui vedeva la luce un altro classico del genere: quell'Ultimatum alla terra di Robert Wise a sua volta rivisitato. Altro giro allo scoccare dell'82, quando John Carpenter dà la sua versione della short story di Campbell andando ad incastrarsi con le uscite di E.T. Blade Runner e Tron. La Cosa chiama la fantascienza, portandosi dietro un tempismo a dir poco "sospetto", quasi come la creatura aliena della quale racconta, avesse bisogno di un organismo fertile all'interno del quale farsi accogliere, per replicarsi. Nulla di meglio rispetto a questa stagione cinematografica, contrassegnata da un ritorno della fantascienza (Chronicle e Attack the block) e dalla riscoperta del gusto prettamente vintage di quest'ultima (Super 8 e Hunger Games). Non può esserci anno migliore del 2012 quindi, per accogliere una nuova Cosa. Prequel o operazione in stile Assault on Precinct 13 poco importa: l'imminente uscita del film di Matthijs van Heijningen Jr. è un'ottima scusa per rimettere mano ai classici di Nyby, Hawks e Carpenter. «Keep watching the skies!» – pur sapendo che il mostro è dentro di noi e potrebbe essere chiunque di noi. 
Condividi
Articoli correlati
Tag